Seminar "Secure Your Data : Membangun Kesadaran Pengamanan Data Sosial Media dari Kejahatan Cyber"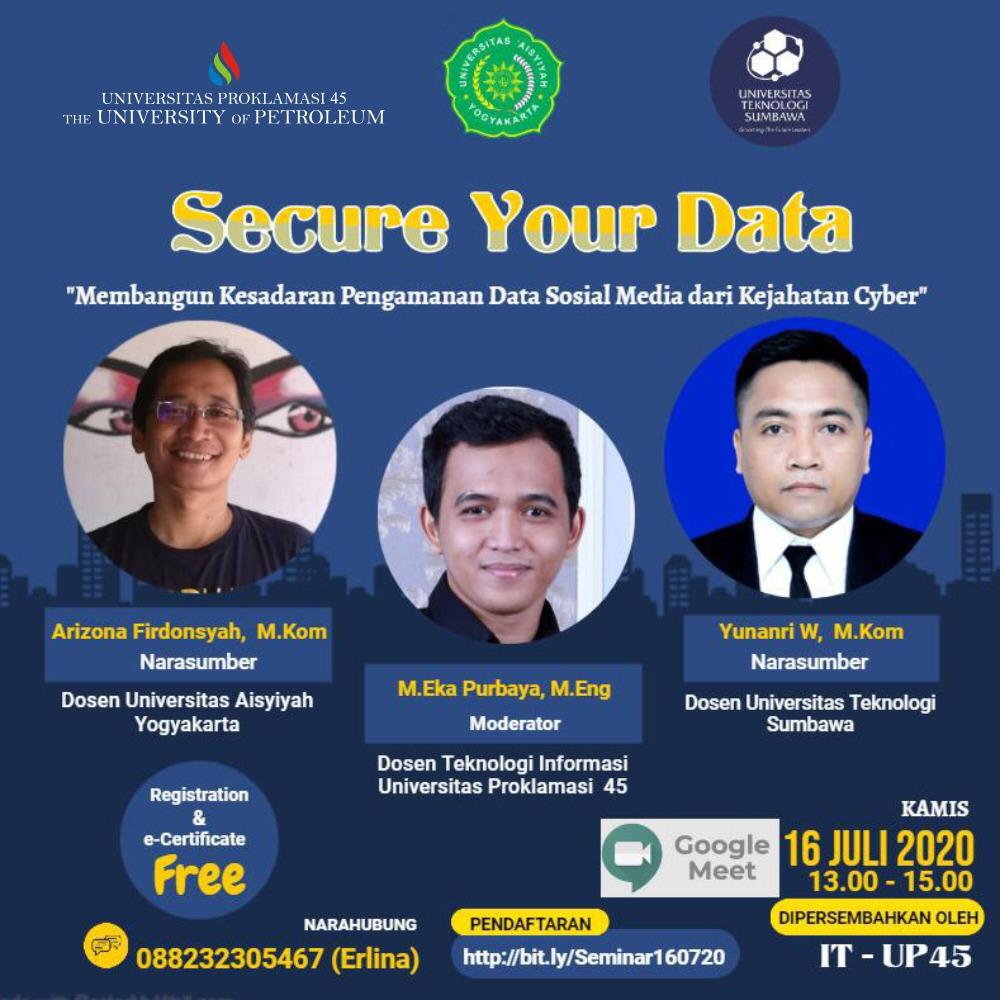 Kamis 16 Juli 2020 pukul 13.00 WIB kembali Program Studi Teknologi Informasi mengadakan  Seminar Online yang lebih tren disebut Webinar . Webinar kali ini tertajuk "Secure Your Data : Membangun Kesadaran Pengamanan Data Sosial Media dari Kejahatan Cyber". Seperti sebelumnya Webinar  mengudara dengan menggunakan faslitas dari cloud nya Google yaitu Meet Google. Seminar yang sangat bermanfaat ini diadakan secara gratis untuk umum. Seminar ini Menghadirkan 2 Narasumber yang laur biasa dibidang keilmuwannya yaitu yang pertama Bapak Arizona Firdonsyah, M.Kom yang merupakan Dosen Universitas Aisyiyah Yogyakarta, dan Narasumber kedua Bapak Yunanri. W, M.Kom yang sehari hari sebagai Dosen di Universitas Teknologi Sumbawa. Dosen Program Studi Teknologi Informasi UP45YK Bapak M. Eka Purbaya, M.Eng bertindak selaku Moderator pada seminar ini. Pada Seminar Peserta mendapatkan Fasilitas berupa E-Sertifikat, Ilmu yang bermanfaat dan Relasi. Rangkaian Seminar ini berdurasi kurleb 2 jam.
Peserta zoom meeting pada Seminar ini dihadiri oleh Dosen dan Mahasiswa Prodi IT UP45YK, Dosen dan Mahasiswa IT dari Unisa Yogya; UTS NTB; Dosen dan Mahasiswa serta praktisi IT yang berasal dari Sabang sampai Merauke dari Miangas sampai Pulau Rote. Sebelum Seminar dimulai Dekan Fakultas Teknik Bapak Dr. Ir. Sugeng Riyono, M.Phil meberikan kata sambutan. Dari Screenshoot Meet Google bisa kita lihat kedua Narasumber, Moderator, KaProdi IT UP45YK, MC dan seluruh peserta Webinar.
Sesi pertama Bapak Arizona Firdonsyah menyampaikan Webinar dengan judul "SECURE YOUR DATA : MEMBANGUN KESADARAN PENGAMANAN DATA SOSIAL MEDIA DARI  KEJAHATAN SIBER" Diawal penyampaian Pak Arizona memberikan Prolog yangb terlihat pada gambar bahwa Saya berMedsos maka saya ada.
Media sosial memberi dampak besar pada kehidupan kita saat ini, seseorang yang asalnya "tidak dikenal" bisa seketika menjadi tenar dengan media sosial, begitu pun sebaliknya, orang "hebat" dalam Sekejap bisa menjadi "tak bernilai" oleh kekuatan media sosial kata Pak Arizona. Di akhir sesi Pak Arizona memberikan QUOTES  : " KEAMANAN SELALU BERBANDING TERBALIK DENGAN KENYAMANAN, JIKA INGIN AMAN, BERSIAPLAH UNTUK TIDAK NYAMAN, JIKA INGIN NYAMAN, BERSIAPLAH UNTUK TIDAK AMAN"
Webinar dilanjutkan oleh Narasumber Pak Yunanri yang berjudul Kejahatan Cyber Crime. Pak Yunanri menyampaikan berdasarkan Organization of European Community Development (OECD) bahwa Cyber Crime itu adalah semua bentuk akses ilegal terhadap suatu transmisi data. Itu artinya, semua bentuk kegiatan yang tidak sah dalam suatu sistem komputer termasuk dalam suatu tindak kejahatan. Pak Yunanri Sebelum menutup sesi memberikan Tips dan Trik agar Terhindar dari Kejahatan Cyber Crime :
Lindungi gadget, komputer atau perangkat lain yang digunakan
Jangan gunakan software bajakan
Pasang perangkat lunak keamanan yang up to date
Menggunakan data encryption
Selalu miliki sikap waspada
Selalu periksa data bank dan data kartu kredit secara teratur
Rajin mengganti kata sandi
Backup data-data secara rutin
Jangan sembarang membagikan info pribadi
Abaikan lampiran surat elektronik dan URL yang terindikasi mencurigakan
Jangan langsung tergiur, gunakan waktu untuk berpikir lebih panjang dan matang.
Laporkan ke pihak yang berwenang
Untuk lebih detailnya silahkan dengarkan Seminar Online ini yang Insya ALLAH akan di Upload di Channel Youtube HIMATIF UP45YK. Silahkan di Subsribe dan nyalakan lonceng notifnya ya, klik like and share dan tulis komen di video-video nya pada Channel Youtube HIMATIF UP45YK untuk komunikasi kita dan menjadi evaluasi kita bersama.
Selamat berjumpa di Webinar-webinar luar biasa berikutnya. Tunggu Webinar dari Tim Program Studi Teknologi Informasi UP45YK dibawah arahan Ka.Prodi IT Ibu Sapriani Gustina, S.Kom., M.Kom.
OK Gan See you next Webinar
Maaf dan Terima Kasih dari kami…